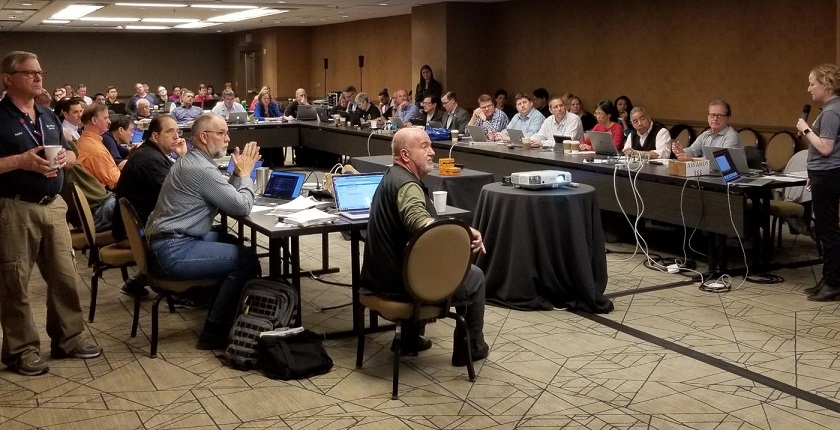 History and Current Status of the "Eagles" Conference
The Eagles are a de-facto coalition of physician leaders who serve as the jurisdictional EMS medical directors from the most of the largest US municipalities and many of their counterparts in Europe, New Zealand, Australia, and several Pacific Rim metropolitan cities. This highly esteemed cadre is collectively responsible for the day-to-day 9-1-1 / 9-9-9 / 1-1-2 / 0-0-0 / 1-1-1 emergency medical services protocols and training, in addition to the out-of-hospital trauma and cardio-vascular resuscitative care provided to 1/3 of the US population and tens of millions of others worldwide. The members of this small group of popular EMS medical directors are all terrific physicians, intrepid innovators, and foxhole comrades.
Each year, these high-profile public servants and medical decision-makers gather to exchange creative concepts, to articulate bold new ideas, and to break bread together. Dubbed the "Gathering of Eagles" by the media, this refreshing, cutting-edge, annual EMS retreat has been made an open door event for EMS practitioners at large. Attendees uniformly report this thought-provoking conclave as "the best meeting I've ever attended". In addition, the Eagles are routinely featured in satellite meetings and other national EMS conferences, and they maintain close contact with each other through daily email and other mobile communication.
Origins of the Conference
In February of 1998, the elected leadership of the paramedic association of Pittsburgh decided to call on Dr. Paul Pepe, the soon-to-be-named Commonwealth Medical Director for the state of Pennsylvania. They asked if he could put on a "state-of-the-art" — or even a "beyond-the-state-of-the- art" educational offering. Over the previous two decades, Pepe frequently had presented many different challenges to the status quo in EMS care at many national and scientific meetings — often based on his own groundbreaking research in Seattle and Houston. In most cases, his recommendations became standard of care worldwide, usually years later. The paramedics were anxious to have their own glimpse into the future.
Coincidentally, Pepe had just heard from two of his old friends, Dr. Ray Fowler, the original National Program Director for Basic Trauma Life Support©, and Dr. Jeff Clawson, the national guru of Emergency Medical Dispatch. Both were planning to visit Pittsburgh three weeks later, just about the same time. The three of them planned to get together and talk about their latest projects. Putting one and two together, Pepe had the beginnings of a faculty for an impromptu March 3rd – 4th course for the paramedics. Within the next week, he had put together the first "EMS State of the Science: Evolution and Revolution" meeting.
Inspired the coincidence of Fowler's and Clawson's arrivals, he made a spur of the moment decision to call on several other old friends. In addition to Fowler and Clawson, he was able to also recruit many of the leading, innovative EMS medical directors from several major U.S. cities, including Marshal Isaacs from San Francisco, Jim Dunford from San Diego, Dave Persse from Houston, Brian Zachariah from Dallas, and several others. Despite the last minute request, these friends all agreed to drop their previous plans and contribute. The idea was to exchange ideas among each other and let EMS personnel, managers and medical directors (and anyone else interested) eavesdrop.
Even with the short notice and limited marketing (mostly word of mouth), the auditorium at Allegheny General Hospital in Pittsburgh was packed with EMS personnel. The audience included everyone, from front-line EMTs and paramedics to regional leaders, including the State EMS Director for Pennsylvania, Peg Trimble. The course was not only cited for its aggressive content ("EMS Response: do you always have to send an ambulance?" and "Mouth-to-Mouth Ventilation: Is it Really Necessary?"), but also for its hard-hitting, "to the point" bullet 15 minute ("900 second") presentations. These didactics were amplified by faculty panels that clearly exuded enthusiasm and camaraderie. Dozens of the evaluations stated the same phrase: "…best conference I've ever attended.."
Even the faculty raved about the conference content. Jeff Clawson said, "I've never taken so many notes since medical school – I was spellbound by each and every talk". Ray Fowler, one of the key founders of the National Association of EMS Physicians, said, "I'll promise you this, if we do this again, it will be the one meeting I definitely won't miss". "Let's absolutely make it annual event", said Marshall Isaacs, "I'll be there every year".
And they all did return the next year — but with some new friends. By 1999, the original "Evolution and Revolution" group had now included the likes of Drs. Ed Racht from Austin and Frank Pratt from LA County. By the year 2002, the cadre had expanded to include Drs. Michael Copass and Leonard Cobb from Seattle, Marc Eckstein from LA City, Joe Ornato from Richmond, Paula Willoughby from Chicago, Crawford Mechem from Philadelphia and several others including the current President (or President-Elect) of the National Association of EMS Physicians. Hearing about the roster, one EMS-oriented member of the media remarked in a report, "This is a gathering of Eagles" . . .and the name stuck.